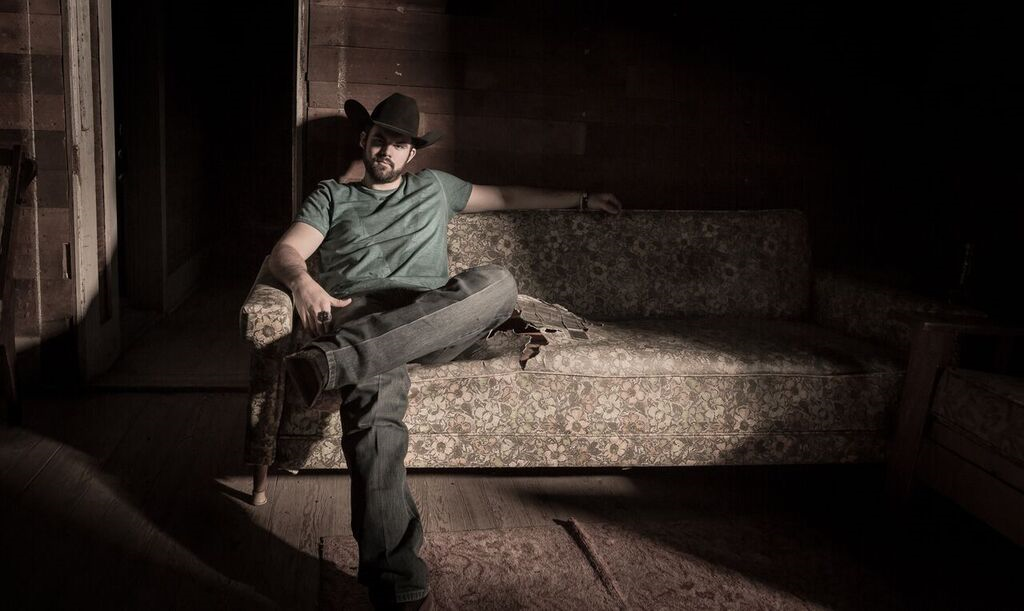 Take one listen to "Swerve On," the new single from Denny Strickland, and you will definitely agree that the track sounds like nothing else on Country Radio today. Of the song – being released on 2/17/15 – Denny says "It's dark and edgy with a splash of sensuality. It's upbeat – something you can listen to on the way to the club. You can crank the subs up, and get your "swerve on". It just struck me, and it got my attention." Hitting the highways of America to promote the single at Country radio, the Arkansas native has recently released a video for the energetic track.
The radio tour isn't Strickland's first time on the road. He traveled throughout America on the horse show circuit, becoming an American Quarter Horse champion. "I participated in horse shows all my life, so I traveled a lot – just like we're doing now promoting the single. I was on a bus going to the different shows. So, today, when I am traveling on the road, it feels like I'm going home. I'm doing something I'm truly passionate about with the music, and it's got my full attention."
It was through his success on the horse show circuit that Strickland would meet a man who would eventually become his manager, changing his life in the process – longtime Johnny Cash band member Marshall Grant. "I met Marshall in Tunica at a little dive. There was a horse show, and he was in there watching and talking to some folks. I went up to him, introduced myself, and gave him a demo. A little later, he called me back, and we worked together." Grant had a keen ear for talent, as he served as the longtime manager for Country Music Hall of Fame members The Statler Brothers.
Grant's passing in 2011 had a profound effect on Denny. "It was a sad day, and I'm now just getting back on my feet after putting out this single. You never know when your last day is, so you better enjoy life."
It's his music that brings out that strong emotion to Denny Strickland. He recalls developing his passion for it early in life. "I started piano when I was young, and played music in school. It wasn't until later that I thought 'I'm gonna try this."
He recalls that there were a lot of different styles of music on his radio growing up in Jonesboro, Arkansas. "I listened to all kinds of music. I really didn't find my niche until later. I had a lot of influences, and they came from all over the musical map. What I'm doing now is a lot different than I did years ago, because the ability wasn't there. I didn't know what I was capable of. But, obviously, George Strait was an influence because we were always at horse shows – and his music was always on the radio. I also listened to a lot of 90s rock and rap, just whatever was on the radio. Everybody has their own taste or playlist, and I guess I was no different. I just want to have my own style, and have longevity."
Making a name for himself in the music business is what drives Denny Strickland, as he recalls some advice he was given by Marshall Grant upon their meeting. "I remember him telling me that there were no promises in this, but he told me what to work on, and I stayed with it. I'm a person that if I start something, I'm gonna finish it and keep it going. I've got a long ways to go, and I'm just starting to get my feet wet a bit. I love being on the road, and talking to the stations. I am having the time of my life."
Denny Strickland also loves the feeling he gets when he hits the stage. That, for him, is what it's all about. "I love getting in front of people. I have found that if you're having a good time, then your audience is having a good time. I just get excited, and I have so much energy. I like to have fun on the road. I don't take things too seriously. I just want to make memories with people. I want true and loyal fans – that's the goal for most people – to have them with you through thick and thin."
Make no mistake about it, Denny Strickland is a man on a mission – and he's enjoying every step along the way. "I take it one day at a time, and try not to overextend myself. I'm trying to document everything. People say that you can never take too many pictures, and this is only gonna happen once. This is definitely some eye-opening stuff, but it feels like home. My comfort level is so high right now. I feel I'm right where I want to be."